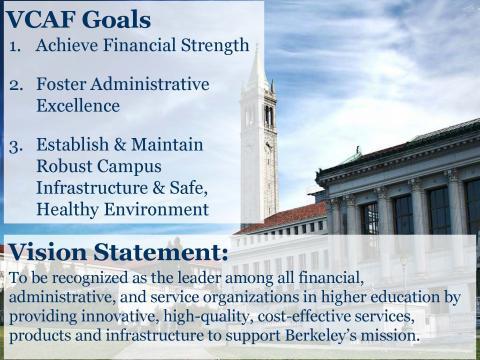 FY 2014 - 2017 Objectives: 
Develop and implement policies and initiatives to promote administrative excellence, financial strength and a safe, robust campus infrastructure.
Provide campus partners with innovative, collaborative financial management and high-quality administrative support.
Raise awareness of Berkeley's financial challenges and the collective steps we must take as a campus to address them.
Goals
Achieve Financial Strength - Align incentives and financial resources to campus strategies, leverage data for strategic decision making, develop revenue generating opportunities, and generate cost savings through efficiency initiatives to provide the financial resources to sustain the campus and enable strategic objectives.
Foster Administrative Excellence - Improve the provision of services, standardize and simplify policies and processes, and reduce redundancies for greater efficiency and campus partner satisfaction. Build and maintain culture of collaboration, innovation, and service.
Establish & Maintain a Robust Campus Infrastructure & Safe, Healthy Campus Environment - Work towards providing the campus with the facilities, infrastructure, safety and support befitting of a leading university in the 21st century.