Overview: The Operational Excellence Program at UC Berkeley
Launched in Fall 2009 and transitioned to operations in 2016, UC Berkeley's Operational Excellence (OE) Program was a multi-year, multi-project initiative with three key goals: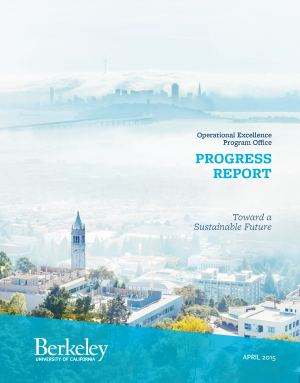 To reduce the campus' administrative costs

To ensure efficient, effective administrative services; and

To support a culture of continuous improvement.
Former Chancellor Robert Birgeneau initiated OE during a time of unprecedented state disinvestment from the UC system. The program was designed to not only address the campus' budget challenges but also, as Birgeneau described,"to reflect our commitment to an administration that is as effective and as excellent as we are in teaching and research."
In addition to generating cost savings, OE was responsible for foundational technology systems and upgrades that are essential for running a leading public research university.
Key Accomplishments
Cal Answers provides accessible, reliable, consistent, and secure analytics to support informed planning and decision-making.

Cal Student Central is improving the student experience by providing a one-stop resource where students can go for key transactions related to financial aid, fees and billing, registration and enrollment.

The campus reduced greenhouse gas emissions and cut energy costs through the Energy Management Initiative.
For more information, please review the OE Program Office Progress Reports for 2014 and 2015.